See on Scoop.it – Modern Marketing Revolution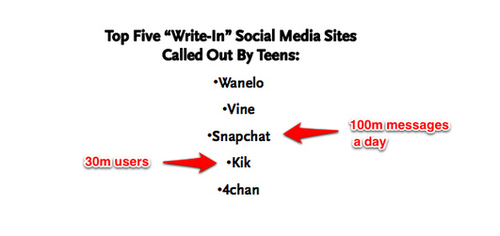 A dramatic generational shift. Profiles are out, ephemera is in.
Art Jones's insight:
As teens abandon Facebook, Twitter, Tumblr and the rest, what is a marketer to do?
Read Fortune aricle form 2.2012, "Generation Flux" .
Yu can't use yesterdays experience to inform how to move forward tomorrow, because in a world of quickly shifting tides wought by the internet, social & mobil media, chaos is the only constant.
Formula for success: Embody -> Innovation, Creativity & Resilience and you'll be fine.
See on www.buzzfeed.com